Karen Edwards, author of 'A Killer's Confession', talks about her time on the set of ITV's 'A Confession'
It's not often you find yourself on the set of a major TV drama, much less faced with an award-winning actress playing you. Yet this was the strange situation I found myself in on the set of ITV's 'A Confession', which tells the story of how Detective Superintendent Steve Fulcher caught my daughter's killer, Christopher Halliwell.
I attended two such filming sessions – one in the depths of the Hertfordshire countryside and another on Tring High Street. I had met actress Imelda Staunton, who plays me in the drama, over a long lunch a few months before I arrived to hear how it all worked. Now, writer and producer of 'A Confession', Jeff Pope, was keen for us to see the making of the production.
It was with some trepidation that we turned up early on a cold wet morning in the countryside to watch Martin Freeman film his 'at home' scenes as Steve Fulcher. We needn't have worried; the actors, director and crew couldn't have been more welcoming and accommodating. They ensured we had scripts we could follow, earphones and monitors so we could watch and listen to the filming, and explanations as to who did what and why. It was amazing to watch the filming of the scenes and the dedication to perfecting each one was astounding.
When we arrived in Tring for our second set visit, it was another bitterly cold day in January. The location was on the High Street and it was here that Imelda Staunton and Peter Wight were playing my husband Charlie and I, filming a visit we made to our MP, Robert Buckland. I was able to speak to Imelda again in between takes, as she was wrapped up in a thick coat against the cold by a member of the team, sharing her hand warmers with me.
What's more, actress Stephanie Hyam, who played my daughter Becky, also visited the set so that we could meet. As she invited us into the trailer she used, it was particularly poignant seeing Becky's name on the door, and more so when Stephanie kindly allowed us a photo opportunity.
There was also amazing attention to tiny details; for example, a replica had been made of a gold necklace I often wore which was round Imelda's neck.  Again, the production team couldn't have been more accommodating and they let us inside the house as they filmed. We stood, all packed in, along with the lighting and camera technicians, and watched as the filming progressed. We were invited to the 'canteen' for lunch, this time in a large two-storey bus set out with tables and chairs.  As it was so cold, we spent the afternoon watching proceedings from a cafe over the road; the actors and production team carried on, uncomplaining, until filming was done.
It was an unforgettable if somewhat surreal experience; everyone was so kind and respectful, so professional and committed. It was a real eye-opener to see the extraordinary efforts everyone went to. They were marvellous.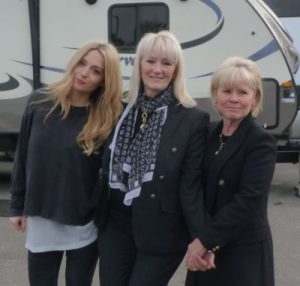 Karen Edwards is the author of 'A Killer's Confession'
A mother's fight to bring her daughter's killer, Christopher Halliwell, to justice
'I have lived every parent's worst nightmare. On what would have been my daughter's 29th birthday, Detective Superintendent Stephen Fulcher knocked on the door and told me my beautiful Becky was dead. Found buried in a shallow grave in a remote field, Becky had been brutally murdered.'
When Becky Godden-Edwards was killed, her mother Karen awoke to a world where the truth was never guaranteed; where taxi driver Christopher Halliwell got away with murder and the police officer who found her daughter was punished instead.
This is Karen's story. Despite unimaginable tragedy, her love for her daughter has been unbreakable: from her despair through Becky's troubled teenage years, to the agonising eight years when Becky was missing, and then the dramatic story of how a killer's confession led to a terrible discovery.
The one constant has been Karen's determination to fight for Becky, tirelessly campaigning for the truth about what happened to be heard and for Halliwell to face the consequences of his evil actions.
*The murders of Becky Godden-Edwards and Sian O'Callaghan are the focus of major ITV series 'A Confession' starring Martin Freeman as Stephen Fulcher and Imelda Staunton as Karen Edwards*
A mother's fight to bring her daughter's killer, Christopher Halliwell, to justice

'I have lived every parent's worst nightmare. On what would have been my daughter's 29th birthday, Detective Superintendent Stephen Fulcher knocked on the door and told me my beautiful Becky was dead. Found buried in a shallow grave in a remote field, Becky had been brutally murdered.'

When Becky Godden-Edwards was killed, her mother Karen awoke to a world where the truth was never guaranteed; where taxi driver Christopher Halliwell got away with murder and the police officer who found her daughter was punished instead.

This is Karen's story. Despite unimaginable tragedy, her love for her daughter has been unbreakable: from her despair through Becky's troubled teenage years, to the agonising eight years when Becky was missing, and then the dramatic story of how a killer's confession led to a terrible discovery.

The one constant has been Karen's determination to fight for Becky, tirelessly campaigning for the truth about what happened to be heard and for Halliwell to face the consequences of his evil actions.

*The murders of Becky Godden-Edwards and Sian O'Callaghan will soon be the focus of major new ITV series A Confession starring Martin Freeman as Stephen Fulcher and Imelda Staunton as Karen Edwards*